The unrivaled market leader in providing specialized machines and systems for the foam industry wanted to step up their website game.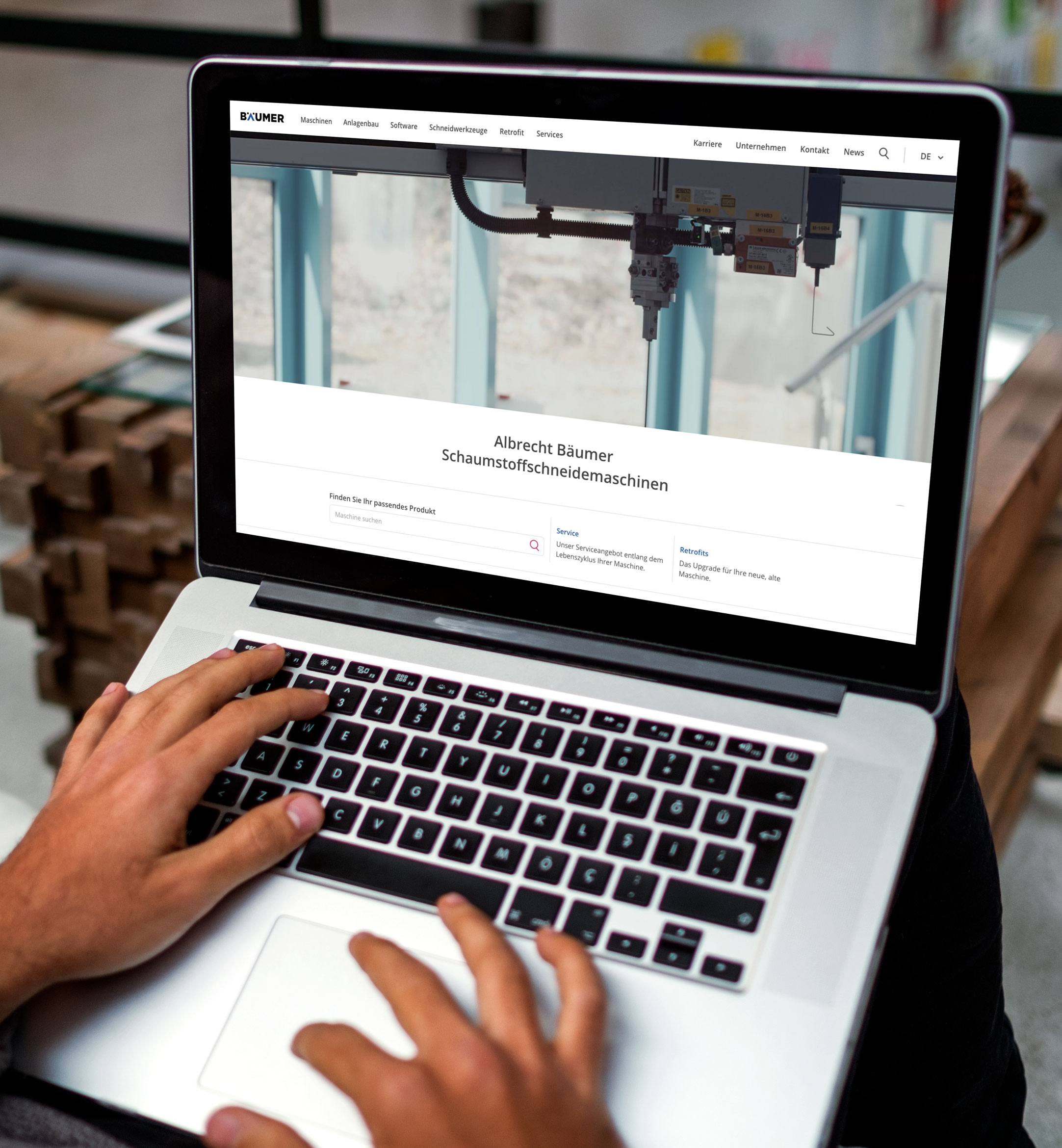 Individual product inquiries with a human connection.
With over 75 years of experience, Bäumer has established an esteemed reputation for offering comprehensive and intelligent concepts and solutions that elevate production processes worldwide. From individual foam cutting machines to complete systems, Bäumer's expertise spans the entire spectrum, ensuring that each client receives the ideal solution for their specific needs.
To improve their customer journey on every channel, they decided to hire echt.digital for a website relaunch. Instead of providing mere products, we wanted to keep the human connection of personalized consultations. By striking a harmonious balance between the feel of an ecommerce storefront and the warmth of personal interaction, we helped Bäumer elevate their digital presence to new heights.
Streamlining content for consistency and efficiency.
With a multitude of products, solutions, and information to present, the project posed a significant challenge due to the sheer number of pages involved. To ensure consistency and efficiency within the allocated budget, we analyzed page types and their contents, resulting in the decision to design template pages with reusable components. By choosing four key pages and incorporating mandatory and optional components, as well as reusable elements like Hero image styles and Form fields, we achieved scalability, consistency, and simplified development.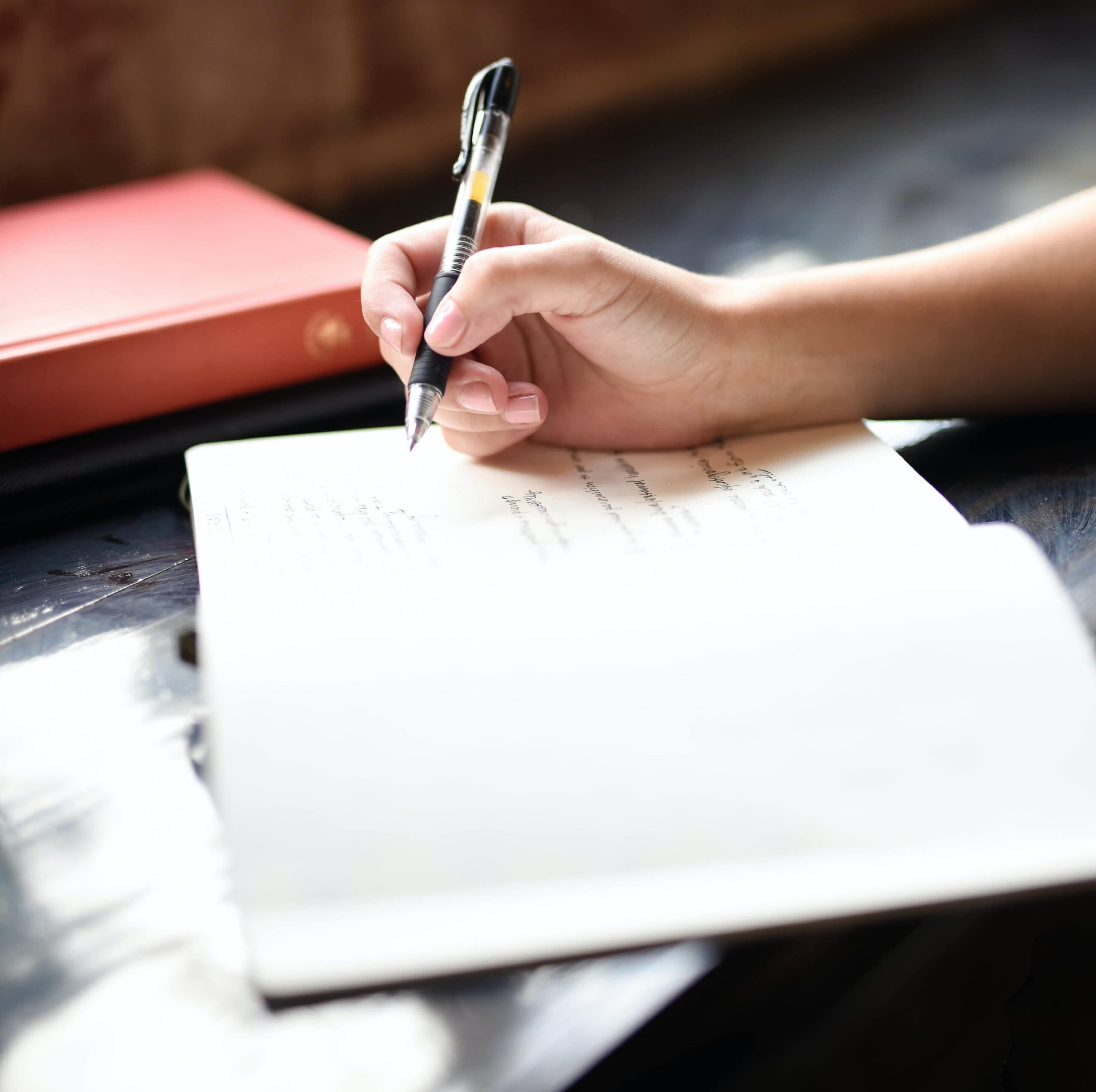 The Digital Transformation of Bäumer's B2B Business.
Embarking on the journey to transform Bäumer's B2B offline business into a thriving digital enterprise came with its own set of goals and challenges. We were committed to addressing these key objectives head-on, while overcoming the complexities inherent in the project.
Google Analytics
To gain valuable insights into the user behavior, we utilized Google Analytics. We found that users switch a lot between related products. This and other insights brought us to the conclusion, that users compare machines, look for complete solutions and might not find all the information they need. We used those valuable insights to shape our IA and Design.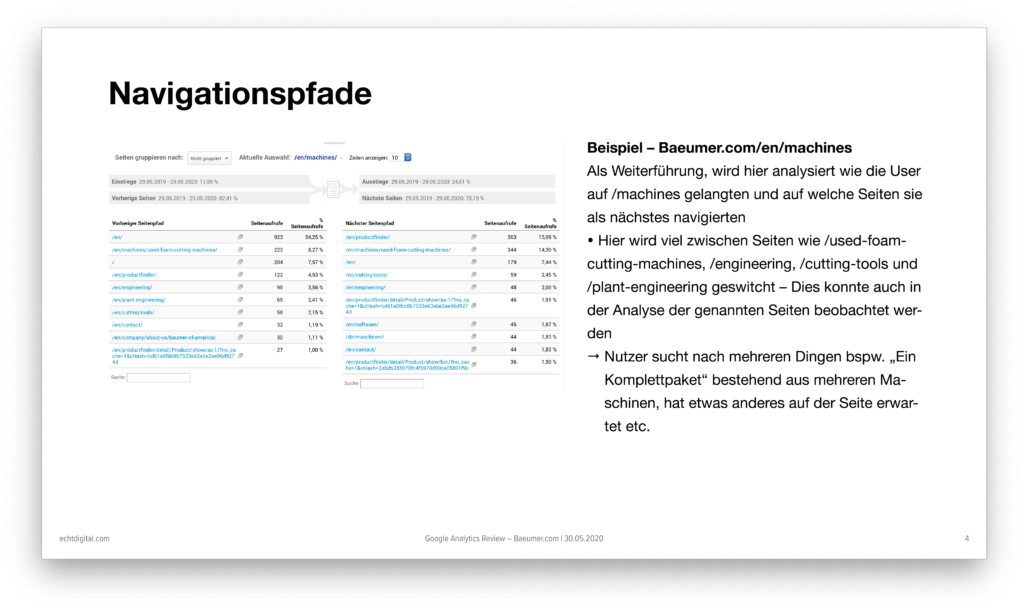 User Journeys
Besides the various industries that Bäumer serves, they also have different types of people researching and buying products. So understanding the background and needs of our users was paramount. By mapping out user journeys, we gained various insights. Among others we found that it is very important for some users to make sure Bäumer is the right partner for them.
Information architecture and content structure.
Enhancing Navigation and Engagement
We carefully structured the content to resonate with different target groups and industries, making it easy for users to find the products and solutions they needed. For a personalized user experiences we included landing pages. Later on we integrated an e-commerce-like functionality while maintaining the core purpose of personal communication. For that a checkout process was implemented to enable users to select products and services, sending an inquiry for a customized solution.
The shop that leads to communication.
Designing a Captivating Digital Experience.
Employing a clean and intuitive layout, we incorporated clear call-to-actions and visual hierarchy. By including elements of an e-commerce store, offering complete solutions and making inquiries a bliss, we created a digital experience that captivated users, fostered trust, and showcased Bäumer's extensive product portfolio.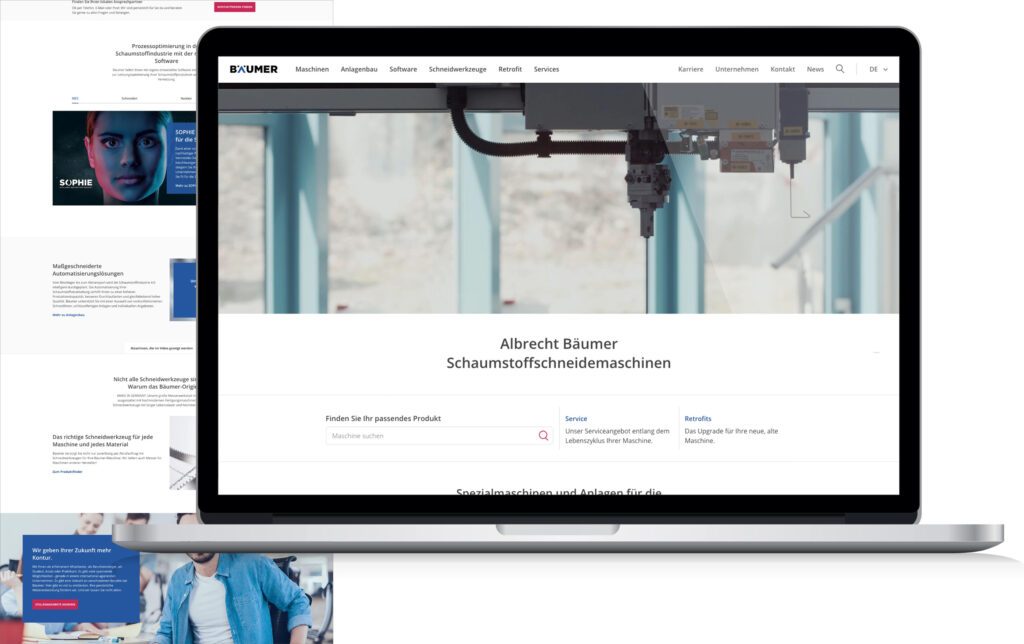 Welcome to Bäumer: Solutions for your needs
Bäumer's homepage serves as the gateway, tailored to meet the needs of diverse target groups. Our approach was to showcase the industries Bäumer serves, instilling trust through testimonials, and providing a clear pathway to explore the extensive range of product solutions.
The path to individually produced products.
Product Overview
The product overview page was designed to provide a comprehensive understanding of the diverse range of products within a segment. The page showcases different use cases and demonstrates how Bäumer's product palette seamlessly integrates with other offerings.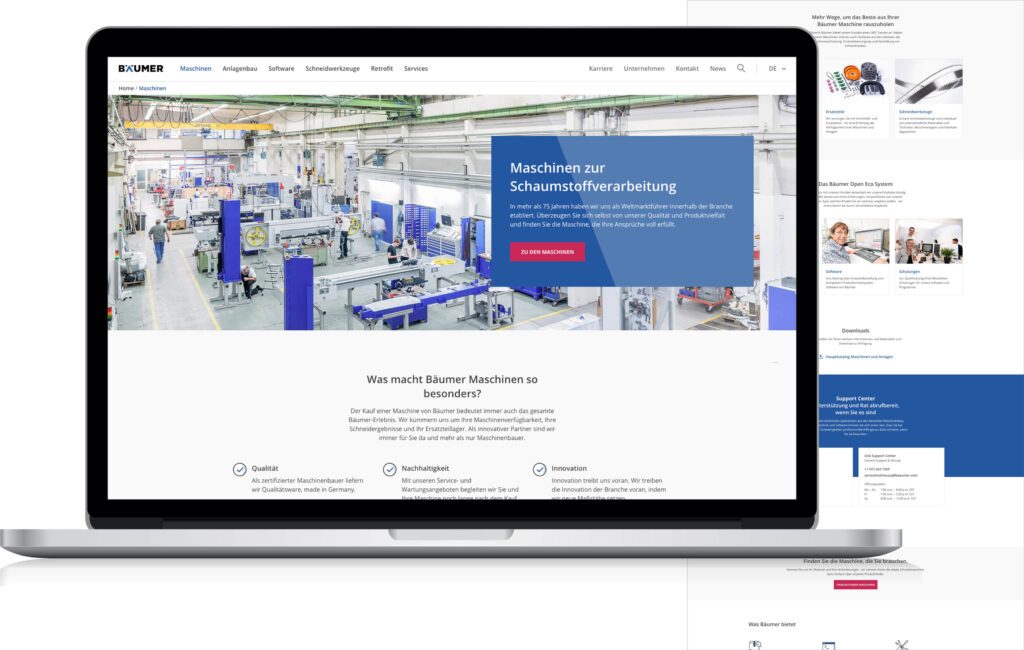 Product finder
Understanding the diverse needs of Bäumer's target groups, we created a shop-like page specifically tailored to user requirements. By implementing an intuitive filter system and comparison tool, we simplified the search process, allowing users to quickly find the ideal product.
Product detail
We crafted the product detail page to highlight the unique features and advantages of the products. Our aim was to provide comprehensive information that goes beyond general descriptions, showcasing the specific use cases and benefits of the products and their integration in an industry eco-system.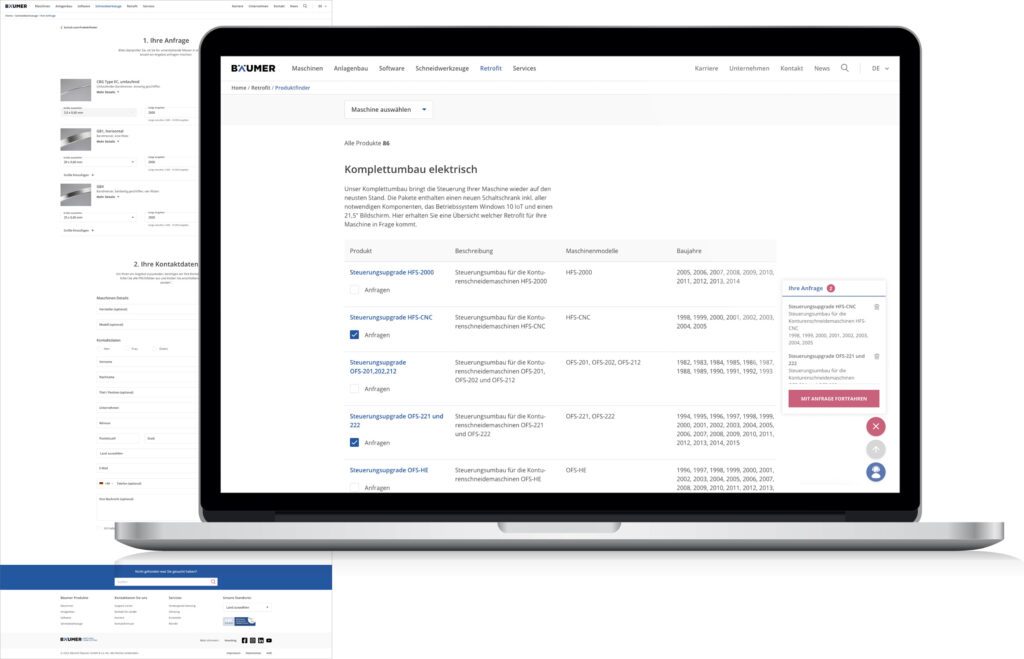 The product pages combined with the inquiry 'checkout' revolutionized the way users access Bäumer's products and solutions. Although direct online purchases are not available, the streamlined process empowers users to curate a comprehensive selection of products and services. By seamlessly bridging the gap between digital exploration and offline B2B communication, the checkout ensures a smooth transition to personalized quotes and custom solutions.
The human touch to the digital world.
Existing customers cherished Bäumer's personal communication and service, so instead of replacing it, we wanted the website to enhance the experience. Therefore we have strategically placed contact and inquiry forms throughout Bäumer's website and created a contact button that auto-populates the correct contact person. Expert advice, tailored solutions, exploring possibilities – the human touch in the customer journeys is what sets Bäumer apart and enables personalized solutions.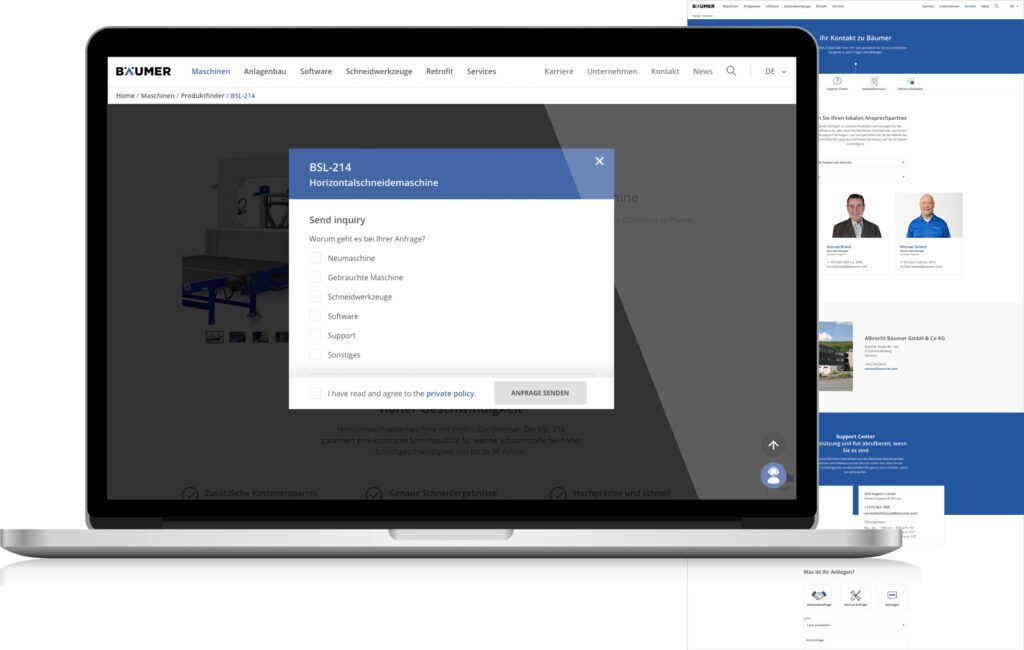 Sustaining excellence through collaboration and support.
Our work did not end with the initial website launch. We embarked on a journey of continuous collaboration with Bäumer to ensure their online presence remains innovative and adaptable. Utilizing the meticulously designed components, we effortlessly creates new pages and maintained a consistent visual identity throughout their digital ecosystem.
We used the previously designed components to develop a robust design system and component library. By establishing a unified design language, we provided Bäumer with the tools to maintain visual consistency and unleash their creative potential.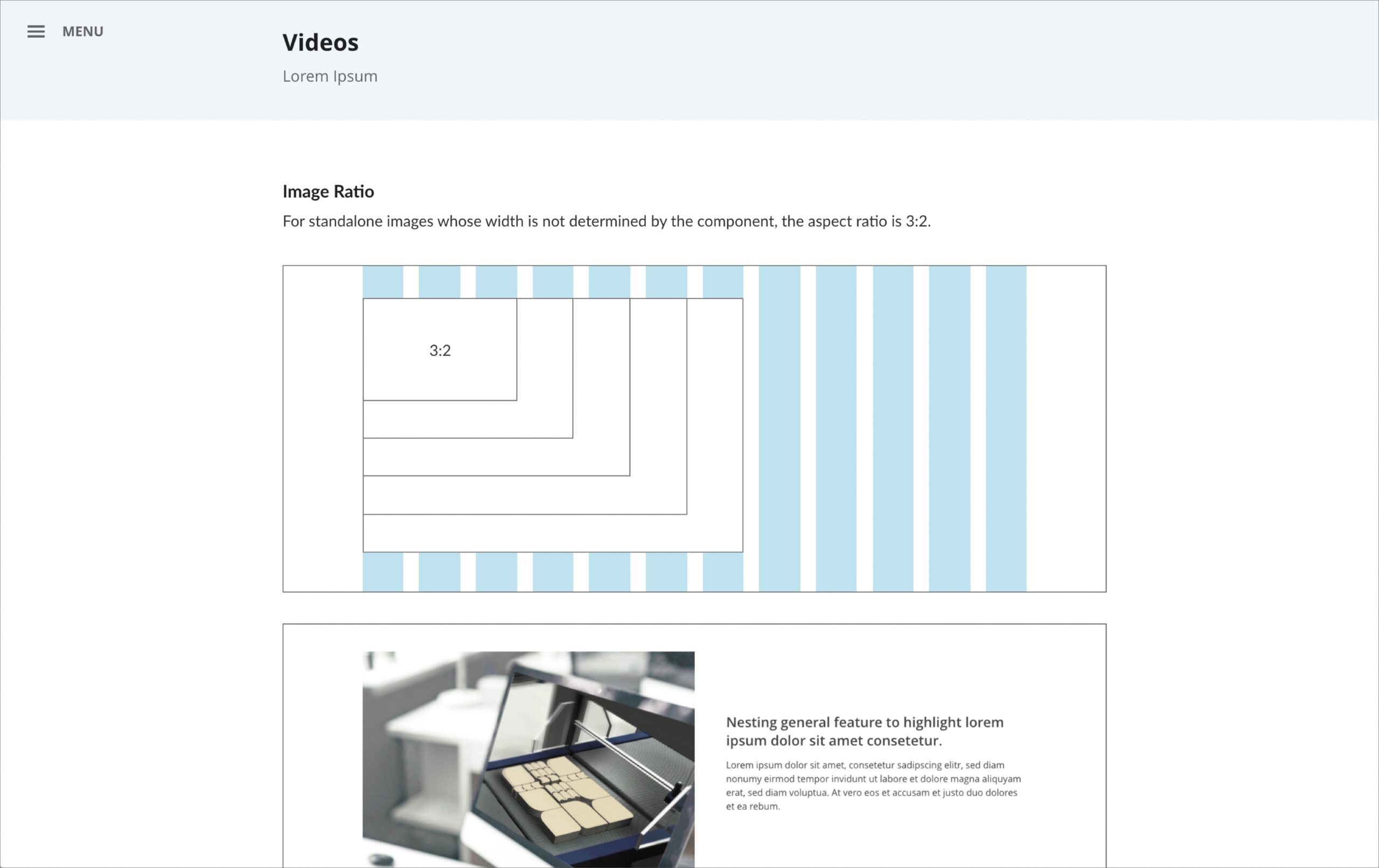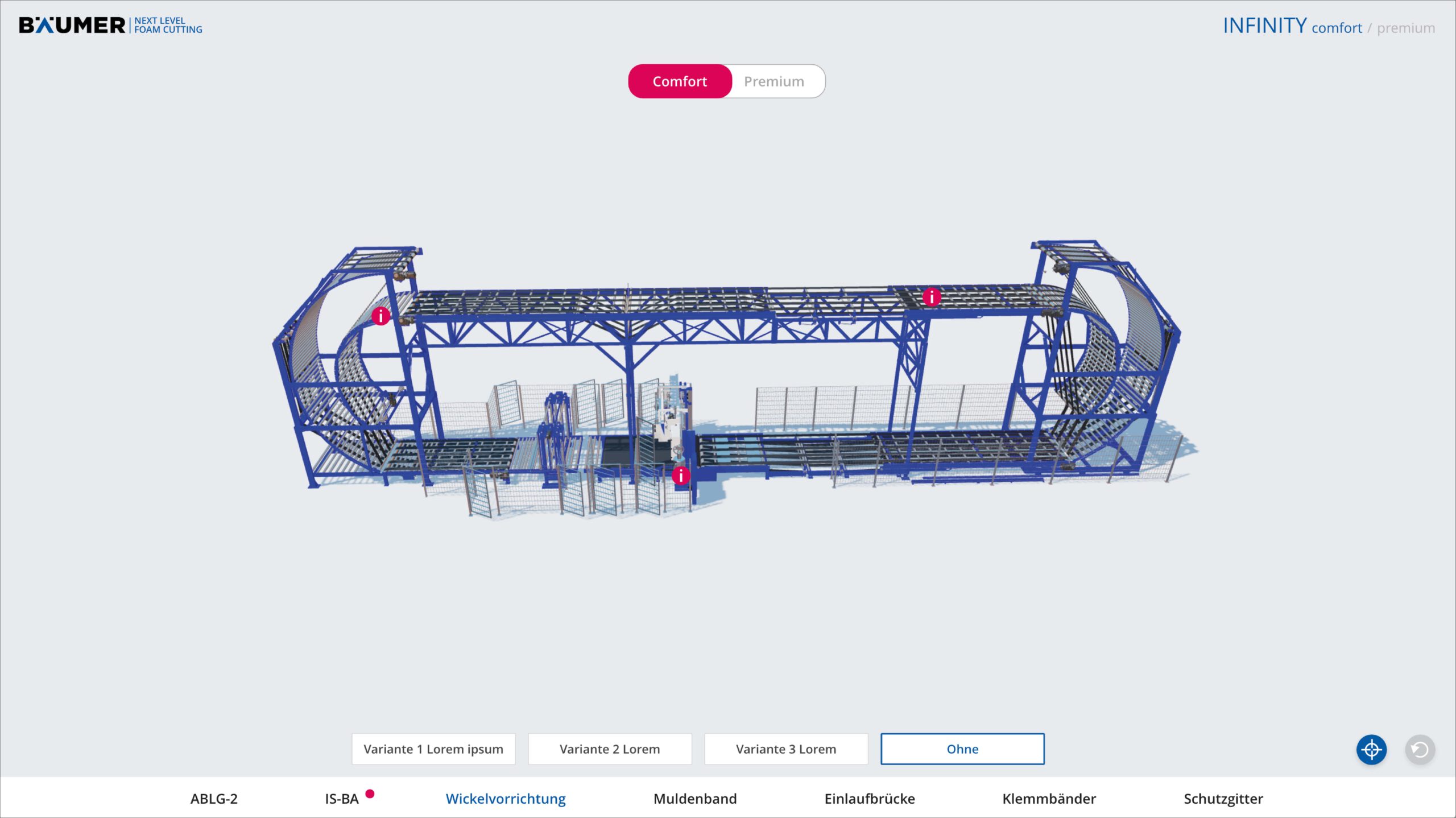 Collaborative growth in Action
The partnership with Bäumer extends far beyond the initial website launch. We maintain a continuous collaboration to update and enhance their online presence. Together, we embark on new projects, creating innovative solutions and expanding the digital landscape.
Driving results, amplifying success.
The website relaunch for Bäumer marked a significant turning point in their online journey, yielding substantial results and propelling their business forward. Our collaborative efforts, meticulous design approach, and user-centric focus culminated in a website that not only met Bäumer's goals but surpassed their expectations.
A sucess for lead generation and internal processes.
The new Bäumer website has become a fundamental part of lead generation. The various product configurators enable users to find what they need and to contact the sales team easily. Additionally the inquiry checkout process enabled a fast internal processing process. The configurators and especially the machine finder, are among the most important and profitable features of the website with a staggering conversion rate increase of 200% for the machine product finder alone.
increased Conversion rate overall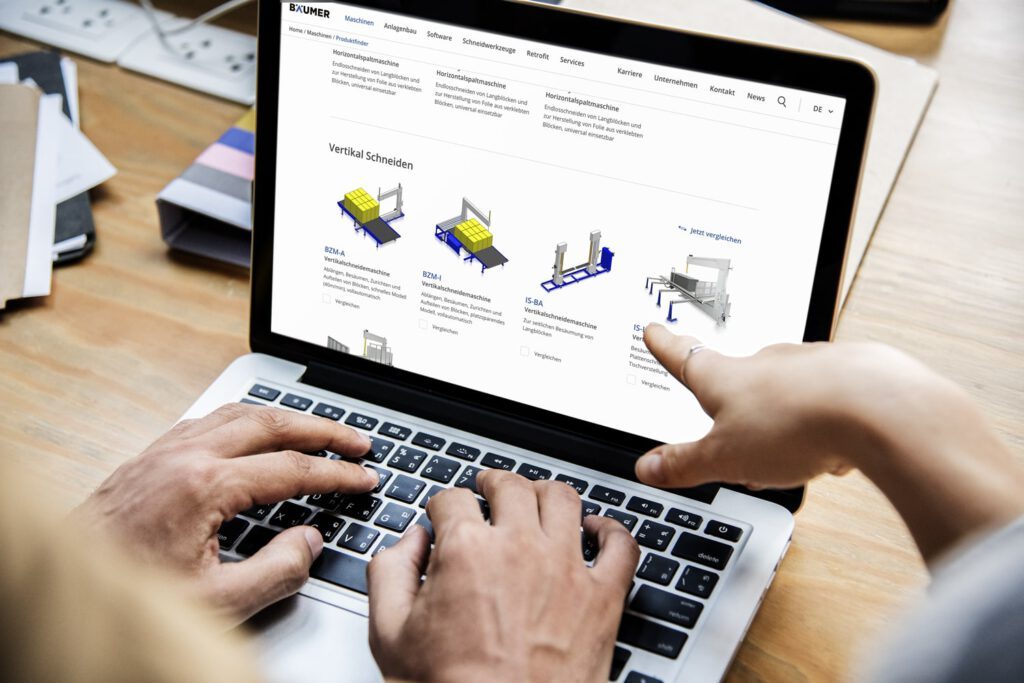 A tool for sales presentations.
Due to their ease of use, the configurators are now used by the Bäumer sales team at trade fairs as a sales and presentation tool. In addition, marketing has expanded its print communication with QR codes to further promote the website as a leading advertising medium and central entry point for lead generation.
Incorporated  user experience in campaigns.
Before the relaunch marketing efforts through email marketing were built completely within the email program secluded form the rest of the user journey. With the relaunch the campaigns were integrated into the website, for users to get the full experience without being stopped in their journey.
This outstanding outcome proves, you don't need to be an ecommerce brand and have standardized products to create a successful digital lead generation machine.